Claudia Dunselman is a kind-hearted, serene person from the Netherlands who, with her husband, Jim, runs a horse therapy retreat in Aljezur. She was born in Amsterdam into a family with a successful bakery in the city's heart. "From a young age, my love of horses started, and I began to ride at eight years old," she explains."While my older brother and sister studied during my teens, I, who wasn't academic, travelled, working in ski resorts and campsites in Switzerland and Italy."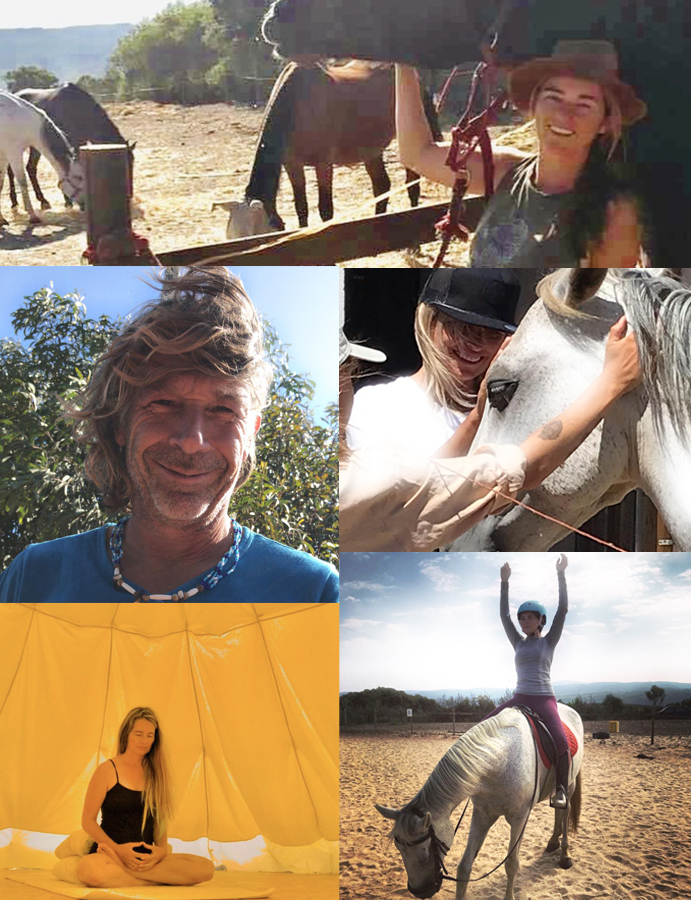 Upon returning to Holland, Claudia didn't know what to do with her life. Fortunately, the timing was such that her parents could hand over managing the family bakery to her. Claudia was just 23 years old and suddenly had a business to run and staff to organise. That same year she also acquired her first horse.
"There are many aspects to running a bakery, and I was thrown into the deep end at a young age, " she remarks," Luckily, my parents gave me advice, but it was a huge responsibility. Their reputable business had been built over three generations, and I had to learn how to manage it swiftly."
For 24 years, Claudia ran the bakery, and she balanced the stress of this by riding her horse in her free time. Early starts were part of her life, and she worked long hours." I was motivated by my dream that I would buy a pink Porsche one day!" she laughs.
" When I was 33, I began suffering from extreme exhaustion and had excruciating back pain from working too hard. The stress from owing money I had borrowed to buy a bigger bakery, plus long working hours and the huge responsibility of running a thriving business, had taken its toll. Luckily, I met level-headed Jim, who became my rock and has continued to be so." Claudia explains. "It was at this time that I tried my first yoga class. I was very sceptical but was captivated by that first lesson as it profoundly affected me."
Jim is a surfer, and he and Claudia started coming to the Aljezur area for holidays. Jim surfed, and Claudia rode horses with her friend Gudrun, who runs a riding stable. "Jim and I were both able to follow our passions here," recounts Claudia, "We began to come here more frequently, and, eight years ago, I shipped my horses to Gudruns stable. I had the plan we would follow if the horses lived here."
Next to Gudrun's riding stable was a house that appeared for sale, and Jim and Claudia bought it. They worked hard in Holland to pay off debts and save money, moving here three years ago. Claudia's brother took over the bakery giving Claudia a book about horse therapy as a parting gift.
"I don't miss the bakery, even though I had a great team and lovely customers. It was time to move on," Claudia stipulates.
"In Aljezur, we have a different lifestyle. We offer retreats in nature that combine horse therapy with yoga," conveys Claudia, "The only sounds heard are the songs of birds, insects and the wind in the trees. Being outside in the wilderness is healing, and we encourage people to spend time with the horses – just watching them, walking with them and riding them. Horses are majestic and powerful; in their calming presence, emotions come to the surface. We offer meditation and yoga to accept these feelings and vulnerabilities and be at peace with them."
This month a Tibetan monk is visiting the retreat. He will be teaching Naikan, a Japanese therapy for self-reflection. "His method is for people to sit in silence pondering upon three questions to cultivate gratitude."
Compassionate and calm, Claudia wants to create a more open view of unconventional medicine and eliminate the dismissive opinion of spirituality and alternative living.
" I am in the right place doing the right thing. I love my life, and I now own a pink Porsche. It's in miniature form and sitting on my mantelpiece."
You can also read the Article in Tomorrow Algarve magazine August 2022 (page 82)